How you can give




and support OUR ministries
"So let each one give as he purposes in his heart, not grudgingly or of necessity; for God loves a cheerful giver"
2 Corinthians 9:7 (NKJV)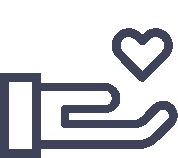 If you prefer a more traditional way to tithe/give, we designate time each Sunday during worship to receive an offering.
Giving at www.ffccfl.org
From your Cell Phone, Tablet or Computer tap "GIVING", follow the prompts to set up your profile, and you're ready to give at just the tap of a button.
If you prefer not to give online, feel free to mail your gift to the following address:
Faith Family Community Church
305 Beulah Road
Winter Garden, FL 34787
1. ACCESS ZELLE
Get started by enrolling your email or U.S. mobile number through your mobile banking app or with the Zelle® app.
2. PICK A PERSON TO PAY
Enter the preferred email address "giving@ffccfl.org" or U.S. mobile number of the recipient. You can send money to almost anyone you know and trust with a bank account in the U.S.
3. CHOOSE THE AMOUNT
Enter the amount to send. Your recipient gets a notification explaining how to complete the payment, simply and quickly.